Simple and Cozy Two-Bedroom Tiny Cottage
Tiny houses have become a very popular living option in recent years. These houses are generally located in a natural environment and allow their owners to be more in touch with nature. Today we will introduce you to the 'Simple and Cozy Two-Bedroom Tiny Cottage' suitable for the minimalist lifestyle of your dreams.
Tiny houses, which can be designed to suit people's own lifestyle, are used for many purposes. For example, it can serve as a full-time residence, a vacation home, or a home designed to create additional living space in the backyard. For this reason, it would be appropriate to design them according to the purpose of use and lifestyle.
Tiny houses offer owners the opportunity to design. It provides flexibility in many design elements such as the choice of materials used in the construction of the house, color palette, and layout plan. This helps the owner of the house to create a comfortable and cozy living space. If you want to own a tiny house, you should examine different tiny houses and design the one that suits you best. For this, don't forget to take a look at the other tiny houses on our website.
Tiny Cottage
This charming abode seamlessly blends rustic charm with comfort. It offers an ideal escape for those seeking to immerse themselves in nature and unwind. It's a place where you can savor your weekends and vacation days to the fullest.
The exterior of the tiny cottage greets you with a warm and inviting aura. Surrounded by lush greenery, it features a delightful veranda where you can enjoy the beauty of the outdoors.
The interior of the tiny cottage exudes a sense of practicality and comfort. It embraces natural elements like exposed brick, stone, and even ceramic tiles to create a cozy atmosphere. The open-concept design seamlessly connects the living room, dining area, and the integrated kitchen.
The main living area features a beautiful fireplace that adds a touch of warmth and elegance. This space is perfect for cozy gatherings. The open floor plan enhances the sense of space. It makes it easy to transition from one area to another.
The two bedrooms in the tiny house provide a tranquil retreat for a good night's sleep. The design combines simplicity and functionality, creating a space where you can unwind and recharge.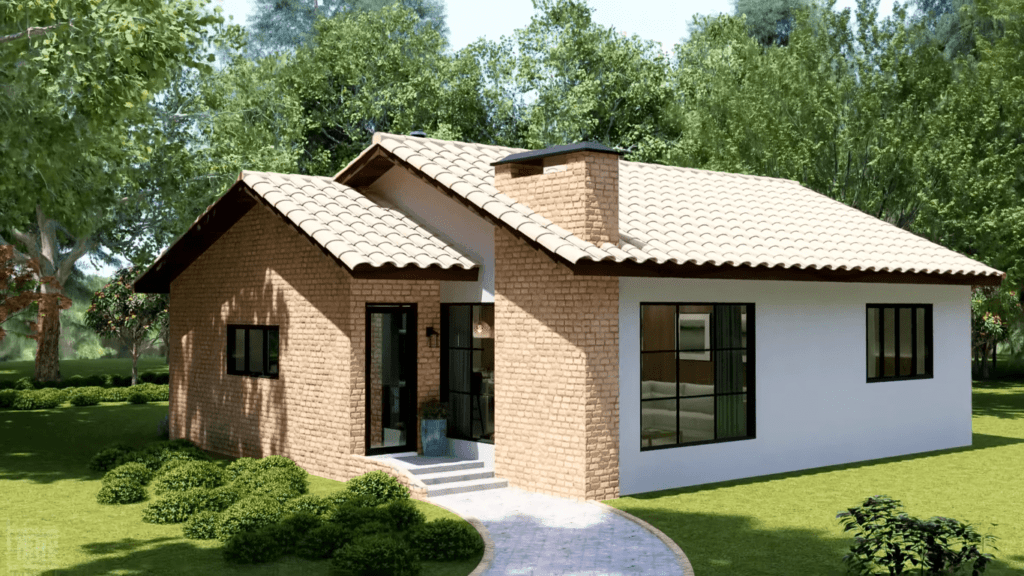 This rustic tiny cottage is a sanctuary where you can immerse yourself in nature. It's the perfect spot for a weekend getaway or a relaxing vacation. This tiny cottage offers an escape that promises to be both comforting and rejuvenating.
LEARN MORE
Simple and Cozy Two-Bedroom Tiny Cottage
Dream Tiny Living discovers and shares tiny houses suitable for the minimalist life of your dreams.
We invite you to share your stories and tiny house photos with us so that together we can inspire the minimalist lives of others' dreams and strengthen our passion even more.
Lets ! Now share our story using the link and social media buttons below.
» Follow Dream Tiny Living on Social Media for regular tiny house updates here «
CHECK OUT OUR OTHER TINY HOUSE STORIES
More Like This : Tiny Houses | Tiny House on Wheels | Tiny Container Houses | Tiny Cabins | Tiny Prefab House
---