Amazing Two Storey Small House Design 4m x 7m
Tiny houses are a great option for those looking for a simpler lifestyle with limited space. The demand for these houses is increasing day by day because they are economical, sustainable and environmentally friendly. Today we will introduce you to 'Amazing Two Storey Small House Design 4m x 7m', suitable for the minimalist life of your dreams.
The interior designs of tiny houses are usually minimal and luxurious and free from unnecessary items. Modern and functional furniture is generally preferred in these houses. At the same time, natural materials are used in these houses, which increase energy efficiency and create an environment compatible with the environment.
It is possible to have fun outside and connect with nature by offering extra open spaces in tiny houses. People design these houses according to their own tastes. If you want to create your own tiny house, you should examine different tiny houses and choose the most suitable tiny house model for you. Therefore, do not forget to review other tiny houses on our website.
Two Storey Small House
Welcome to this remarkable small house. With its compact size of 4 x 7 meters and two storeys, this house offers a clever use of space and a total floor area of 55sqm.
The exterior of the small house showcases a simple yet elegant design that seamlessly blends with its surroundings. The clean lines and tasteful finishes create a visually appealing aesthetic that is sure to catch the eye.
This small house presents an excellent opportunity to embrace a minimalist lifestyle without compromising on comfort and style. Its efficient use of space and clever design ensure that every square meter is maximized, providing a cozy and inviting living environment. This small house offers the perfect balance of functionality, aesthetics, and comfort.
Step inside, and you'll find a well-designed ground floor that encompasses the living, dining, and kitchen areas. The open-concept layout promotes a sense of spaciousness and allows for easy interaction between the different areas.
The ground floor also features a bathroom and a convenient laundry area, providing all the necessary amenities for comfortable living. Ascend to the first floor, and you'll discover a cozy bedroom that offers a private and tranquil retreat.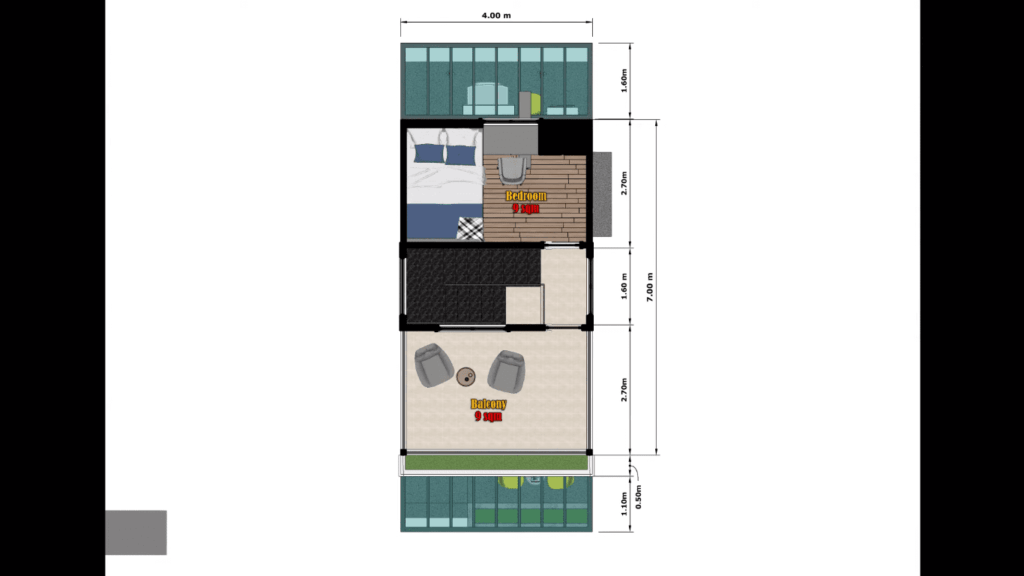 LEARN MORE
Amazing Two Storey Small House Design 4m x 7m
Dream Tiny Living discovers and shares tiny houses suitable for the minimalist life of your dreams.
We invite you to share your stories and tiny house photos with us so that together we can inspire the minimalist lives of others' dreams and strengthen our passion even more.
Lets ! Now share our story using the link and social media buttons below.
» Follow Dream Tiny Living on Social Media for regular tiny house updates here «
CHECK OUT OUR OTHER TINY HOUSE STORIES
More Like This : Tiny Houses | Tiny House on Wheels | Tiny Container Houses | Tiny Cabins | Tiny Prefab Houses
---