Small House with Magnificent Balcony 6m x 9m
Tiny houses are a way of life that reveals the principle of minimalism and a sustainable way of life. The areas of these houses are quite small. Designers find solutions to increase the living comfort of these houses by taking into account the principles of practicality, aesthetics and functionality. Today we will introduce you to 'Small House with Magnificent Balcony 6m x 9m', suitable for the minimalist lifestyle of your dreams.
Tiny houses are generally compact structures. These two-storey or single-storey houses, with their functional structure, provide the opportunity to find all the facilities we find in our traditional houses. The house is made very useful with open plan concepts and smart storage solutions. Large windows and light colors are used to make the interior look bright and spacious.
Tiny houses should not be limited to just the interior. They offer a comfortable living space outdoors with large terraces and garden areas. This allows homeowners to spend more time with the natural environment. If you want to own a tiny house, you should examine different tiny houses and choose the one that suits you best. For this, don't forget to check out the other tiny houses on our website.
Small House 6m x 9m
This 4-bedroom small house combines comfort, style, and functionality to create a cozy and inviting home.
The exterior of the small house is painted in a soft blue color, exuding a tranquil and welcoming atmosphere. The facade is adorned with large windows, allowing natural light. A small veranda at the entrance offers a charming spot to enjoy the fresh air.
As you enter the small house, you step into a spacious living room adorned with comfortable brown sofas. The brown color scheme is complemented by tasteful paintings adorning the walls.
Moving further into the small house, you'll find a bright and modern white kitchen. The clean and minimalistic design creates a sense of openness. A dining table is strategically placed in front of the kitchen.
The four bedrooms in the house are designed with a minimalistic and serene aesthetic. It features predominantly white color schemes. This design choice creates an atmosphere of tranquility and simplicity, perfect for restful nights.
An elegant staircase in the kitchen area leads to the upper floor. It adds a sense of architectural charm to the interior. The upper floor features a spacious balcony, providing an additional outdoor space to relax and enjoy the surroundings.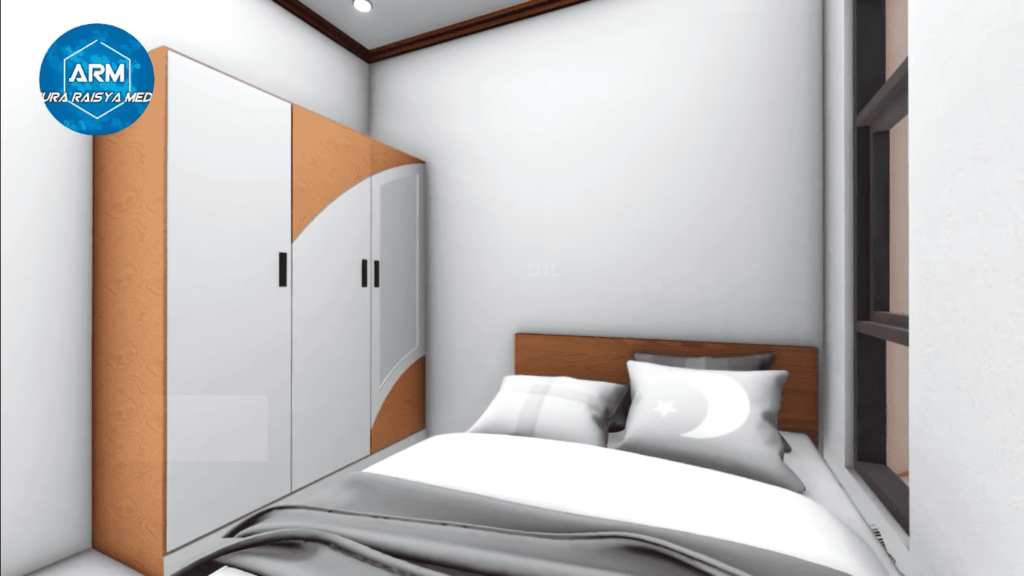 This small house design prioritizes comfort and style while embracing a clean and modern aesthetic.
LEARN MORE
Small House with Magnificent Balcony 6m x 9m
Dream Tiny Living discovers and shares tiny houses suitable for the minimalist life of your dreams.
We invite you to share your stories and tiny house photos with us so that together we can inspire the minimalist lives of others' dreams and strengthen our passion even more.
Lets ! Now share our story using the link and social media buttons below.
» Follow Dream Tiny Living on Social Media for regular tiny house updates here «
CHECK OUT OUR OTHER TINY HOUSE STORIES
More Like This : Tiny Houses | Tiny House on Wheels | Tiny Container Houses | Tiny Cabins | Tiny Prefab House
---