Newly Built Tiny Mountain Hut in Dupont State Forest
Today's people are overwhelmed by the crowded and intense pace of cities. For this reason, they seek a different lifestyle in order to relax and get away from the crowd of the city. Therefore, the demand for tiny houses is increasing day by day. Today we will introduce you to 'Newly Built Tiny Mountain Hut in Dupont State Forest', suitable for the minimalist lifestyle of your dreams.
The small interior space of these houses makes you think, 'Can I live in such a small space?' raises the question. But by making a smart design, you can find the comfort you can find in normal big houses in these houses. Having an open concept living area and getting plenty of natural light from the large windows refresh the interior of the house. In addition, smartly arranged furniture and storage areas make functional use of every inch.
Therefore, design is very important in tiny houses. You can determine how the tiny houses have a comfortable and functional living space. You can make your living space more comfortable and functional by spending time on imagination and creativity. For this reason, you can expand your imagination by examining different tiny houses and create the most suitable tiny house for yourself. For this, do not forget to review other tiny houses on our website.
Tiny Mountain Hut
The enchanting tiny hut welcomes you to a serene retreat. Surrounded by lush greenery and vibrant flowers, this Tiny House is a paradise for nature lovers. The location offers a perfect blend of tranquility and convenience. It provides a peaceful escape from the hustle and bustle of daily life.
The tiny hut boasts a charming exterior design that effortlessly blends with the natural surroundings. The use of cream-colored wood and white accents adds a touch of elegance to the house. The upper floor is ingeniously designed with an open room. It allows you to admire the lower rooms from above.
Step inside tiny hut, and you'll be greeted by a mesmerizing sight. The interior is adorned with an abundance of flowers and greenery. It creates a refreshing and lively atmosphere. The design exudes warmth and sophistication, making you feel instantly at home.
The main living area of the tiny hut offers a comfortable and chic space to unwind and relax. With ample natural light streaming through the large windows, the room feels bright and inviting.
The tiny hut features one cozy and stylish bedroom. With two comfortable beds, it can comfortably accommodate up to two guests. The unique design of the upper floor adds a touch of whimsy to the overall ambiance. It's an ideal spot for reading and spending quiet moments.
Experience the magic of nature in the heart of the Tiny House. This charming abode is a true oasis of tranquility and natural beauty.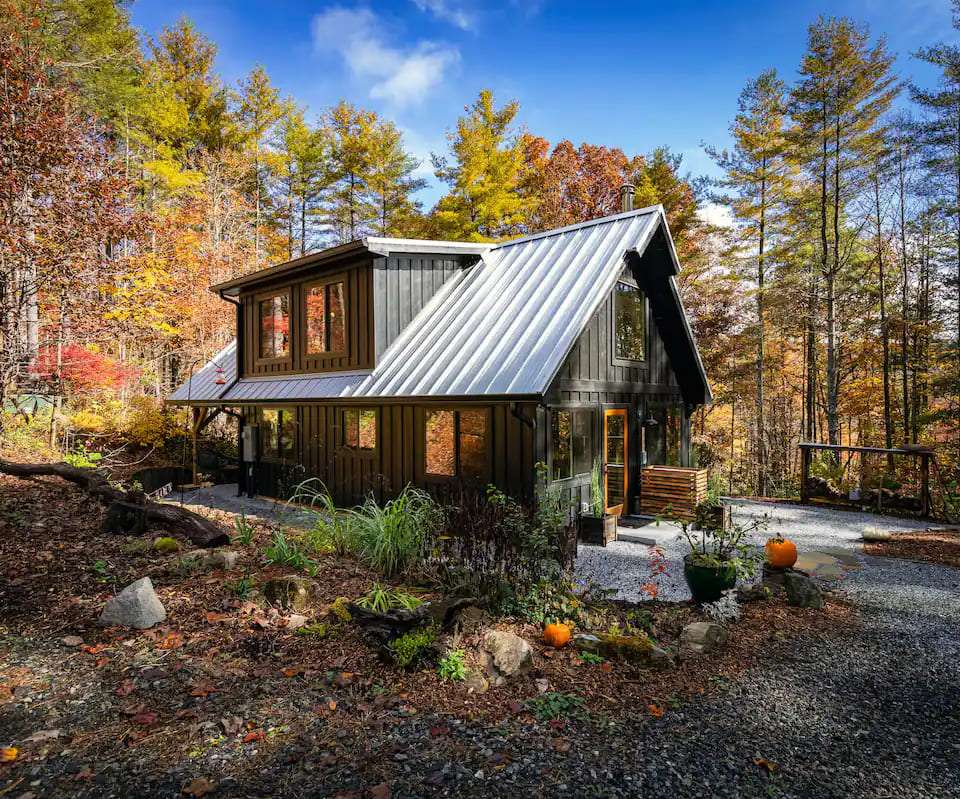 LEARN MORE
Newly Built Tiny Mountain Hut in Dupont State Forest
Dream Tiny Living discovers and shares tiny houses suitable for the minimalist life of your dreams.
We invite you to share your stories and tiny house photos with us so that together we can inspire the minimalist lives of others' dreams and strengthen our passion even more.
Lets ! Now share our story using the link and social media buttons below.
» Follow Dream Tiny Living on Social Media for regular tiny house updates here «
CHECK OUT OUR OTHER TINY HOUSE STORIES
More Like This : Tiny Houses | Tiny House on Wheels | Tiny Container Houses | Tiny Cabins | Tiny Prefab House
---