Beautiful Tiny Cottage in the Enchanted Forest
Today, as a result of the changing living conditions, people are turning to the minimalist philosophy of life. The demand for these tiny houses, which combine practicality and comfort, is increasing day by day. Today we will introduce you to 'Beautiful Tiny Cottage in the Enchanted Forest', suitable for the minimalist lifestyle of your dreams.
Since the area of ​​tiny houses is small, it is most important to use the space in the most efficient and functional way in these houses. Therefore, it is necessary to pay attention to the design of the house. In these houses, the open floor plan and the living room, kitchen and dining room are combined to gain a more functional structure.
Another way to make these houses look big and spacious is the light colors used in the interior. At the same time, high ceilings and large windows provide a spacious atmosphere inside the house. If you want to own a tiny house suitable for your own lifestyle, you should examine tiny houses in different designs and find the most suitable tiny house for you. For this, do not forget to review other tiny houses on our website.
Beautiful Tiny Cottage
Tiny cottage offers a one-of-a-kind escape surrounded by nature's beauty. This retreat provides a secluded haven where you can unwind and reconnect with the natural world.
Immerse yourself in the enchanting ambiance of this tiny cottage. Its cone-shaped canvas roof creates a rustic and tent-like experience. It blends harmoniously with the surrounding landscape. The large windows on the front side invite nature indoors.
The retreat boasts a charming exterior, with its inviting facade and well-maintained surroundings. The tranquil setting and picturesque views create a soothing atmosphere.
Step inside and discover the stylishly designed bedrooms. The retreat features one double bedroom and one single bedroom, both adorned with sleek and modern white furniture. The minimalistic approach to the interior design enhances the sense of calm and tranquility. It provides a peaceful sanctuary for a good night's sleep.
The kitchen is a reflection of the retreat's minimalist aesthetic. It offers a clean and streamlined space for culinary endeavors.
From the cozy and well-appointed bedrooms to the minimalist kitchen, this tiny cottage offers a harmonious blend of style and comfort.
The Cocoon offers a unique retreat where rustic charm meets modern comfort. Embrace the beauty of the hill country landscape, unwind in the cozy interior.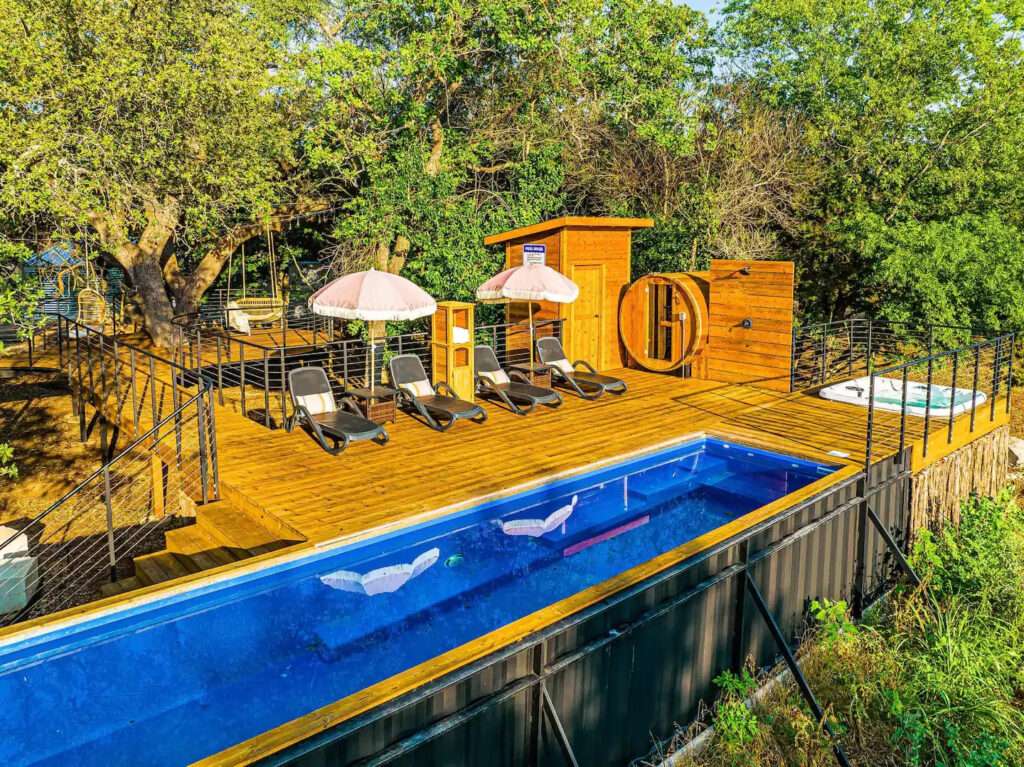 LEARN MORE
Beautiful Tiny Cottage in the Enchanted Forest
Dream Tiny Living discovers and shares tiny houses suitable for the minimalist life of your dreams.
We invite you to share your stories and tiny house photos with us so that together we can inspire the minimalist lives of others' dreams and strengthen our passion even more.
Lets ! Now share our story using the link and social media buttons below.
» Follow Dream Tiny Living on Social Media for regular tiny house updates here «
CHECK OUT OUR OTHER TINY HOUSE STORIES
More Like This : Tiny Houses | Tiny House on Wheels | Tiny Container Houses | Tiny Cabins | Tiny Prefab House
---