Relaxing Tiny House Design 8m x 9m
In recent years, people's lifestyles have changed dramatically. Smaller and functional tiny houses began to replace traditional houses. Therefore, the demand for these houses is increasing rapidly. Today we will introduce you to 'Relaxing Tiny House Design 8m x 9m' suitable for the minimalist life of your dreams.
These tiny houses, which have a small area, become the center of attention with their functional structure and luxury design. Tiny houses are made functional by using each square meter efficiently. At this stage, the power of design comes to the fore. Furniture and items in the house are made functional by using multi-purpose. In this case, it offers the opportunity to use the space at the maximum level.
It is very important to use large windows for the interior of the house to have a spacious atmosphere. A spacious atmosphere is created by allowing more daylight to enter the interior. At the same time, the light-toned colors used in the interior make the house feel bigger than normal. If you want to build your own tiny house, don't forget to check out the other tiny houses on our website.
Tiny House 8m x 9m
This beautiful tiny house offers a tranquil escape from the hustle and bustle of everyday life. This relaxing tiny house provides a calming ambiance that promotes relaxation and rejuvenation.
The relaxing tiny house stands out with its elegant and clean white exterior. It exudes a sense of modernity and sophistication. The addition of the swimming pool adds a touch of luxury. It provides the perfect spot for relaxation and outdoor entertainment. The well-maintained landscaping enhances the overall aesthetic appeal. It creates a harmonious blend of nature and architecture.
Step inside, and you'll be greeted by a bright and inviting interior. The use of white and blue hues in the living room and kitchen creates a refreshing atmosphere. The open floor plan allows for seamless movement between the different areas. It promotes a sense of spaciousness.
The main living area serves as the heart of the tiny house. It provides a comfortable space for relaxation and socializing. The abundance of natural light and the view of the swimming pool create a serene ambiance.
The tiny house features two cozy bedrooms, each designed to provide a peaceful haven for restful nights. The white and blue color scheme continues in the bedrooms, creating a cohesive and calming atmosphere.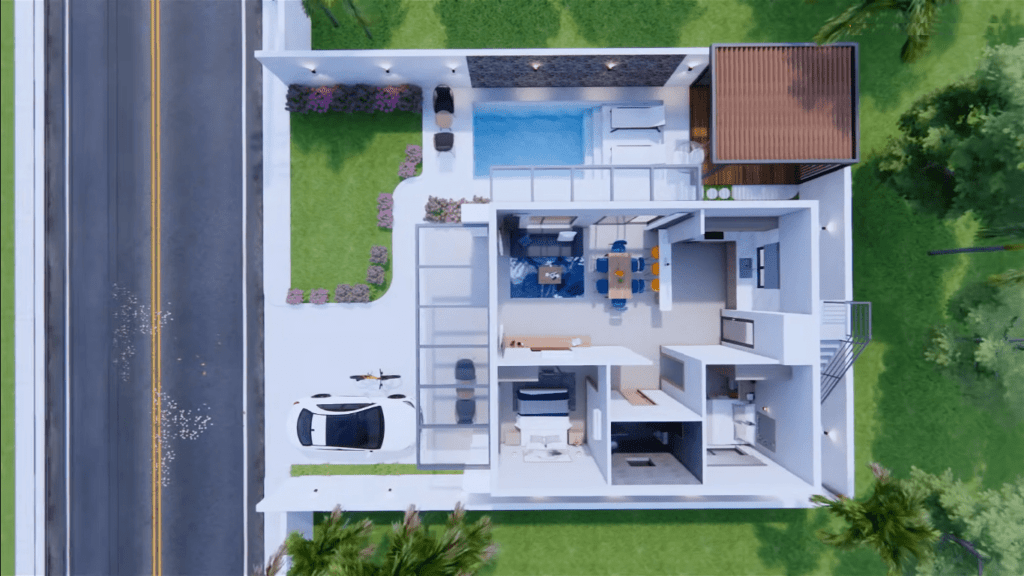 This tiny house offers a relaxing and inviting living space with its swimming pool, 2 bedrooms, and serene location.
LEARN MORE
Relaxing Tiny House Design 8m x 9m
Dream Tiny Living discovers and shares tiny houses suitable for the minimalist life of your dreams.
We invite you to share your stories and tiny house photos with us so that together we can inspire the minimalist lives of others' dreams and strengthen our passion even more.
Lets ! Now share our story using the link and social media buttons below.
» Follow Dream Tiny Living on Social Media for regular tiny house updates here «
CHECK OUT OUR OTHER TINY HOUSE STORIES
More Like This : Tiny Houses | Tiny House on Wheels | Tiny Container Houses | Tiny Cabins | Tiny Prefab House
---