Nest Tiny Cottage with Hammock
The interest and demand for small houses is increasing day by day. Today we will introduce you to 'Nest Tiny Cottage with Hammock', suitable for the minimalist life of your dreams.
There are many reasons why people prefer tiny houses. There is a lot of interest in tiny houses for different reasons such as simplifying their lives for some, eliminating excess furniture for others, and reducing costs.
Although the number of these houses is increasing, there is a need for minimalist objects such as furniture suitable for these houses. You should examine different tiny house models to build and design your dream tiny house. You can create your own tiny house by examining other different house models on our website.
Nest Tiny Cottage
This small cottage is on private property 12 minutes from Magnolia Silos and Downtown Waco. The place where it is located is in peaceful nature. The house, which can be rented to its guests, offers a happy holiday pleasure.
The house looks quite charming from the outside. One of the most important features of the house is that it has a large veranda. The patio has a hammock where you can take a nap and a table where you can have your morning coffee and meal. It's impossible not to find peace in this patio area.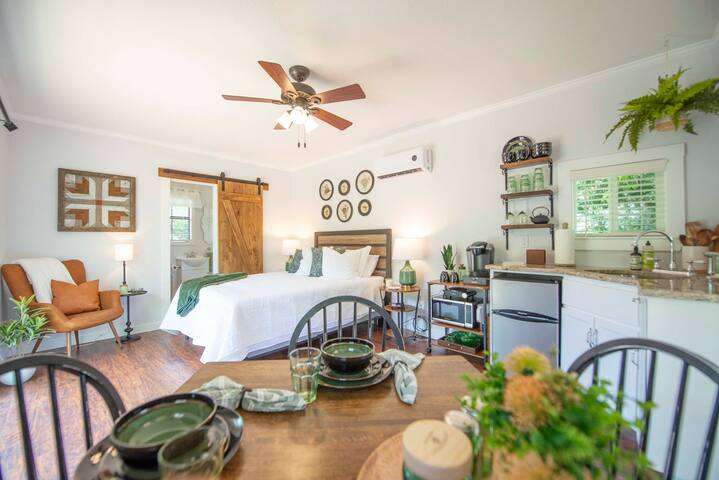 In the interior of the house, a magnificent country house look welcomes us. The use of light colors on the walls added a spacious atmosphere to the house. Bright and illuminating daylight enters through large sliding glass doors. Buddha provides a joyful atmosphere inside.
The main living area of ​​the house features a large double bed and a single sofa opposite to ensure a restful night's sleep. You can watch the view from the bed through the big glass window. On the side there is a small but useful kitchen and a table for eating. The bathroom is very spacious and useful. The window here adds a bright air to the bathroom.
LEARN MORE
Nest Tiny Cottage with Hammock
Dream Tiny Living discovers and shares tiny houses suitable for the minimalist life of your dreams.
We invite you to share your stories and tiny house photos with us so that together we can inspire the minimalist lives of others' dreams and strengthen our passion even more.
Lets ! Now share our story using the link and social media buttons below.
» Follow Dream Tiny Living on Social Media for regular tiny house updates here «
CHECK OUT OUR OTHER TINY HOUSE STORIES
More Like This : Tiny Houses | Tiny House on Whells | Tiny Container Houses | Tiny Cabins | Tiny Prefab Houses
---