Contemporary and Detached Tiny Shipping Container House
The number of tiny houses, which offer a great opportunity for those who want to be closer to the beauty and peace of nature, is increasing day by day. You can build these houses wherever you feel peaceful. Deep in the forest, by the sea, on a hill with a magnificent view, in a small village, these houses are everywhere. Today we will introduce you to the 'Contemporary and Detached Tiny Shipping Container House' suitable for the minimalist lifestyle of your dreams.
There are different types of tiny houses. Shipping container houses, tree houses, tiny houses on wheels, and prefabricated houses are the most preferred. You should choose the type of these houses according to the climatic conditions of your region, your lifestyle and financial situation.
At the same time, these houses have an environmentally friendly structure. These houses, which have a small footprint and can be equipped with solar energy and water collection systems, cause less harm to the environment. If you want to own a tiny house according to your budget and financial situation, you should examine the tiny houses of different structures and choose the one that suits you best. For this, don't forget to check out the other tiny houses on our website.
Shipping Container House
This tiny shipping container house offers the epitome of modern, self-contained accommodation. Each pod is a sanctuary of comfort and convenience. This house boasts two bedrooms, a lounge/dining area, and a well-equipped galley kitchen. Yet, it's the subtle touches of opulence that truly elevate your stay at this tiny house.
The central atrium, with its soaring design, welcomes you as soon as you step inside. Here, you'll find immense glass and container doors that open onto a spacious deck. It provides you with breathtaking views of the river precinct. These architectural marvels are just a glimpse of what awaits.
The master bedroom pampers you with a rain shower ensuite, a TV, and a private deck area. The second bedroom offers separate, luxurious bathrooms. Both bedrooms are equipped with king-sized beds.
The spacious lounge/dining areas are tastefully furnished, providing comfortable seating for up to 6 people. Adjoining the lounge is the galley kitchen, fully equipped with everything you need to make your stay effortless.
Tiny shipping container house features remote-controlled opening windows. A beloved feature among our guests is the reading nook. With a daybed and large picture windows that welcome the afternoon sun, it's the perfect spot to lose yourself.
This tiny shipping container house seamlessly blends contemporary luxury with the natural beauty of the river precinct. It offers you an unparalleled escape into serenity and comfort.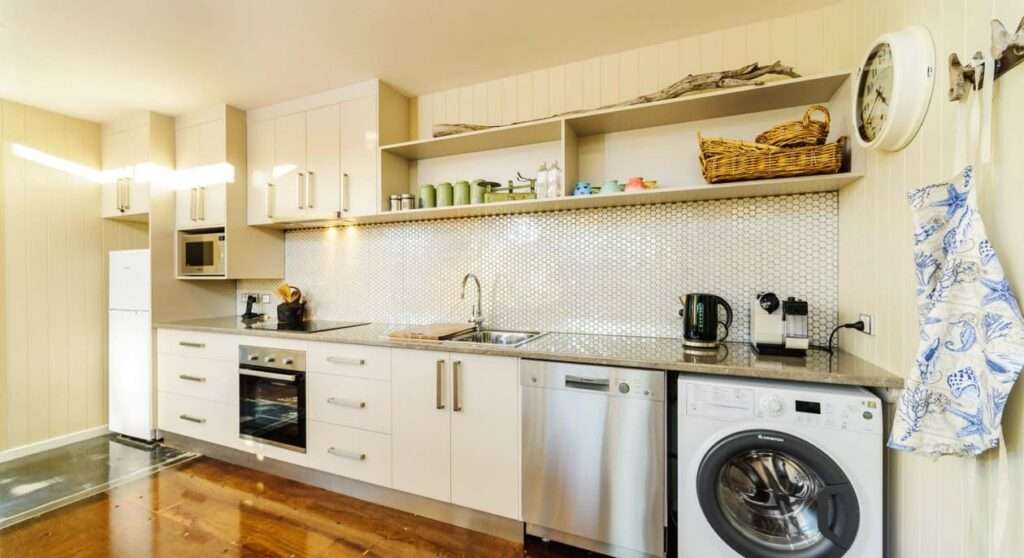 LEARN MORE
Contemporary and Detached Tiny Shipping Container House
Dream Tiny Living discovers and shares tiny houses suitable for the minimalist life of your dreams.
We invite you to share your stories and tiny house photos with us so that together we can inspire the minimalist lives of others' dreams and strengthen our passion even more.
Lets ! Now share our story using the link and social media buttons below.
» Follow Dream Tiny Living on Social Media for regular tiny house updates here «
CHECK OUT OUR OTHER TINY HOUSE STORIES
More Like This : Tiny Houses | Tiny House on Wheels | Tiny Container Houses | Tiny Cabins | Tiny Prefab House
---