Tiny But Still Comfortable and Stylish House 3m x 4m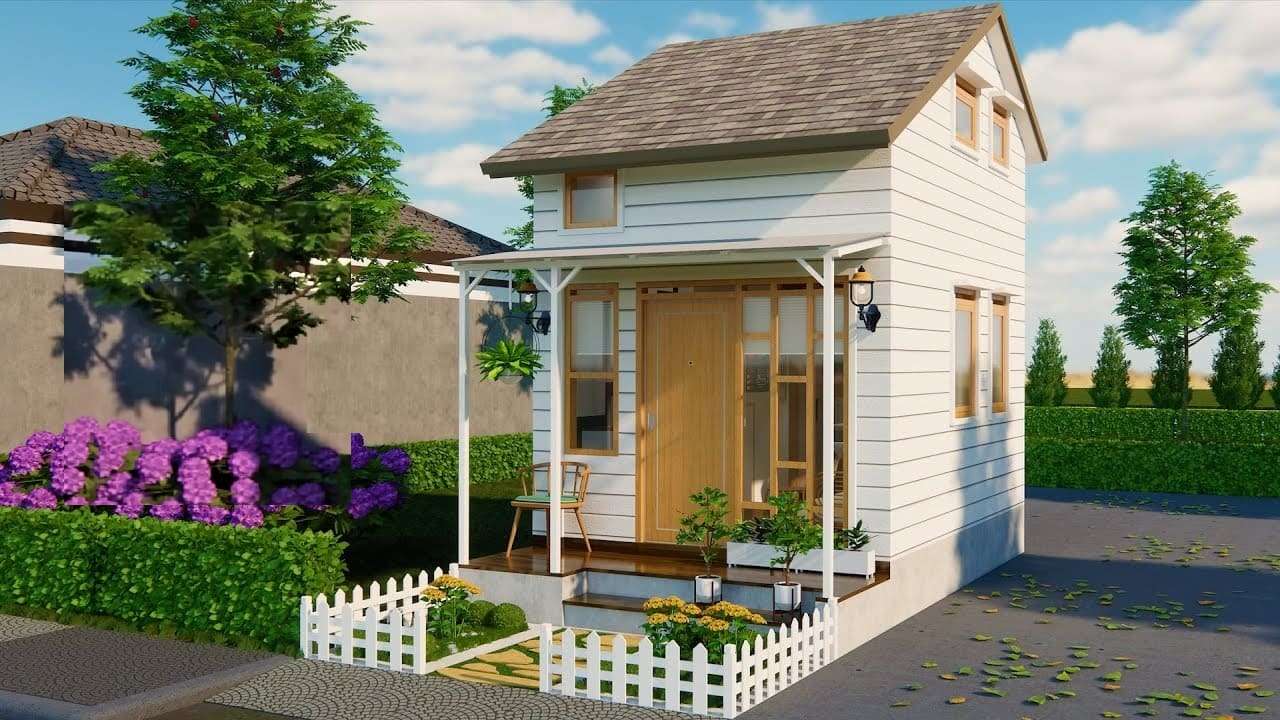 Tiny houses have become quite popular lately and their number has increased. These houses offer a good opportunity for those who prefer a minimalist lifestyle. Today we will introduce you to 'Tiny But Still Comfortable and Stylish House 3m x 4m', suitable for the minimalist lifestyle of your dreams.
Tiny houses are usually designed to accommodate one or two people or a small family. However, the small size of these houses does not mean that they will be limited in terms of modernity and comfort. With a smart design idea, these houses are made more functional. The furniture is used for multiple purposes, contributing to the functionality.
The large windows used in these houses make the house more spacious. At the same time, the light colors used in the interior create a feeling that the house is bigger than it is. If you want to design your own tiny house, you should examine tiny houses with different structures. For this, do not forget to review other tiny houses on our website.
Tiny House 3m x 4m
Welcome to charming tiny house design, nestled in a peaceful location. This stylish house boasts an ingenious use of space with 2 floors inside. The ambiance of the surroundings complements the comfort of the interior. It creates a perfect setting for your dream tiny house.
The house's exterior is a blend of modern design and traditional charm. The inviting terrace serves as a warm welcome, hinting at the comfort awaiting inside. The overall aesthetics reflect simplicity and elegance. It makes it a perfect fit for various architectural preferences.
Step inside, and you'll be greeted by a cozy living room. It is perfect for creating cherished memories with family and friends. The dining area offers ample space to savor delightful meals together.
The layout ensures easy navigation and a seamless flow between rooms. The main living area brings together the essentials of a modern lifestyle. From relaxation to entertainment, this space is designed to be your family's favorite gathering spot.
Upstairs, stylish house presents a peaceful retreat in the form of a comfortable bedroom. The well-appointed space allows you to unwind, offering a serene environment for restful nights. The bathroom is designed with your comfort in mind, promoting relaxation and rejuvenation.
This stylish house brings together the perfect blend of practicality and charm. With a cost-effective yet functional design, it caters to your daily needs and desires. Experience the joys of a cozy living space, where happiness and comfort go hand in hand.
LEARN MORE
Tiny But Still Comfortable and Stylish House 3m x 4m
Dream Tiny Living discovers and shares tiny houses suitable for the minimalist life of your dreams.
We invite you to share your stories and tiny house photos with us so that together we can inspire the minimalist lives of others' dreams and strengthen our passion even more.
Lets ! Now share our story using the link and social media buttons below.
» Follow Dream Tiny Living on Social Media for regular tiny house updates here «
CHECK OUT OUR OTHER TINY HOUSE STORIES
More Like This : Tiny Houses | Tiny House on Wheels | Tiny Container Houses | Tiny Cabins | Tiny Prefab House
---