Beautiful Modern Tiny Farmhouse with Loft
We continue to discover different and beautiful tiny houses for you. Today we will introduce you to the 'Beautiful Modern Tiny Farmhouse with Loft', suitable for the minimalist life of your dreams.
It's nice to live in a tiny house. People are increasingly choosing tiny houses over traditional houses. There are many reasons for this. Tiny houses are preferred because they are cost-effective, environmentally friendly and provide a sense of freedom.
Most people think that living in a tiny house would be cramped and uncomfortable, but that's not the case. Tiny houses are designed to maximize the available space and make the most of the space. Therefore, when you live in tiny houses, you will see how spacious they really are. In order to find the tiny house of your dreams, you should examine different tiny houses. You can find your dream tiny house by browsing other tiny houses on our website.
Modern Tiny Farmhouse
This modern farmhouse is designed as a work office that can be built in the backyard. It can also be used as a home if needed. This 224 square meter compact house has a very cute look.
This modern building has a visually appealing design from every direction you approach it. The use of sheet and batten siding on the exterior walls gave the house an aesthetic appearance.
One of the most prominent features of the house is the covered patio area. The area extending a few meters from the back wall of the house allows you to have a pleasant time outside. Designed as a bar, this area offers a nice opportunity to organize brunch with your family and close friends.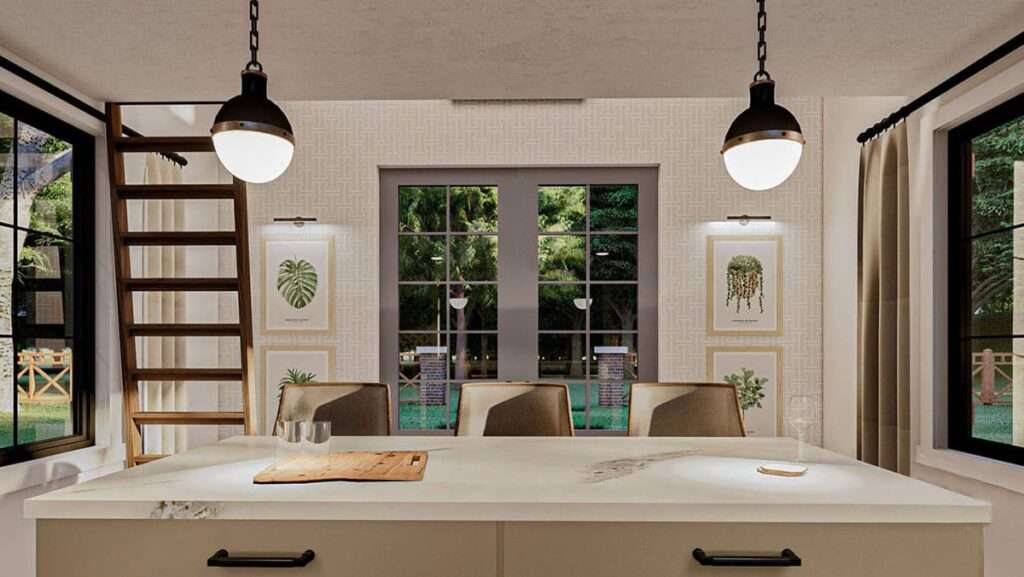 When we step into the interior of the house through the double door with glass panels, we encounter a modern design. Large windows allow good daylight into the house.
At the entrance of the house, there is an area that you can use as a kitchen, office space or dining table. The large window connects you to the outside patio area.
The wooden staircase at the entrance takes you to a warm, comfortable and inviting loft. You can use this area as a rest room or bedroom. Windows on both sides of the loft provide good illumination of the area.
LEARN MORE
Beautiful Modern Tiny Farmhouse with Loft
Dream Tiny Living discovers and shares tiny houses suitable for the minimalist life of your dreams.
We invite you to share your stories and tiny house photos with us so that together we can inspire the minimalist lives of others' dreams and strengthen our passion even more.
Lets ! Now share our story using the link and social media buttons below.
» Follow Dream Tiny Living on Social Media for regular tiny house updates here «
CHECK OUT OUR OTHER TINY HOUSE STORIES
More Like This : Tiny Houses | Tiny House on Wheels | Tiny Container Houses | Tiny Cabins | Tiny Prefab Houses
---