Sunset Tiny Home with Gorgeous Views
We continue to discover beautiful and different tiny houses for you. Today we will introduce you to 'Sunset Tiny Home with Gorgeous Views', suitable for the minimalist life of your dreams.
A tiny house is a good opportunity to change your lifestyle and personal goals. It's also a versatile tool for building or owning a budget-friendly home, depending on your financial situation. So it is a solution that fills the gaps.
There is no one size and model home design that fits everyone's lifestyle. For this reason, tiny houses have different styles that appeal to people from all walks of life. There are tiny house models suitable for the lifestyle of individuals, from retirees to newly married couples. That's why you need to do research to build or buy your own tiny house. You can find your own tiny house by browsing the other tiny house models on our website.
Sunset Tiny Home
This gorgeous home is located in Tracy City, Tennessee, United States. The house, which can be rented through Airbnb, is located in the forest of Monteagle Mountain.
This house, which allows you to leave your worries behind and relax, has a magnificent view. There are chairs in the patio area at the front of the house. There is also a fire pit for pleasant conversations with your loved ones.
When we enter the interior of the house, which can accommodate 4 people, a modern design welcomes us. A spacious atmosphere is created by choosing white and gray color tones in the interior. Not using a variety of colors in tiny houses makes the interior of the house feel more spacious.
The main living area of ​​the house, which has an open plan living plan, includes the living room and the kitchen. The living room has an armchair and a TV. The kitchen has all the necessary equipment to make good meals.
The house with two bedrooms has 1 king and 1 queen bed. The full-size bathroom has a shower and toilet.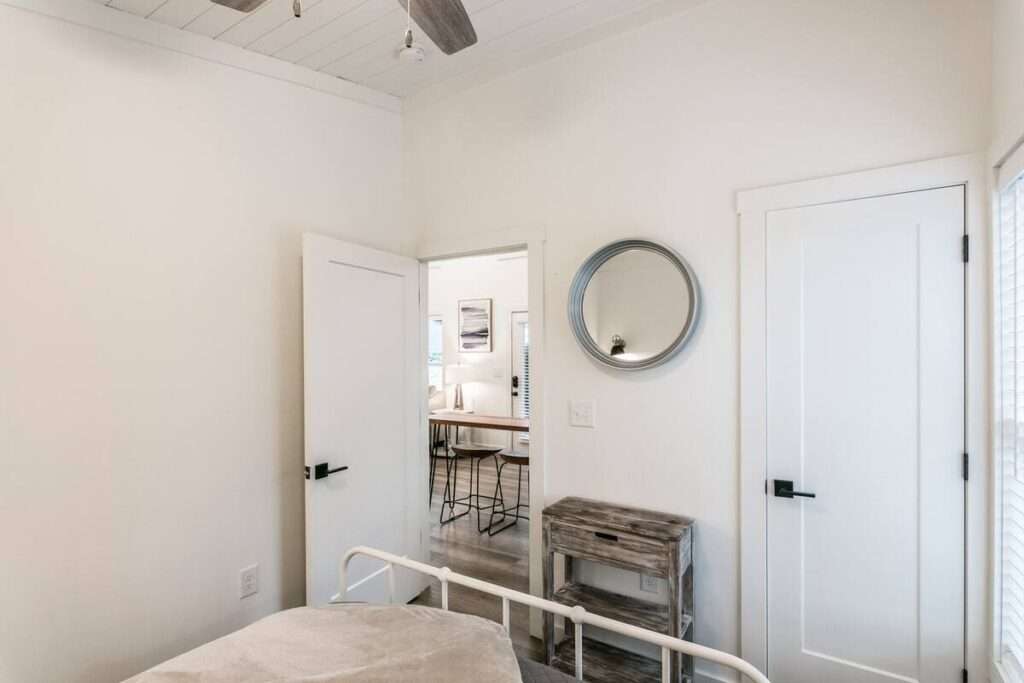 LEARN MORE
Sunset Tiny Home with Gorgeous Views
Dream Tiny Living discovers and shares tiny houses suitable for the minimalist life of your dreams.
We invite you to share your stories and tiny house photos with us so that together we can inspire the minimalist lives of others' dreams and strengthen our passion even more.
Lets ! Now share our story using the link and social media buttons below.
» Follow Dream Tiny Living on Social Media for regular tiny house updates here «
CHECK OUT OUR OTHER TINY HOUSE STORIES
More Like This : Tiny Houses | Tiny House on Wheels | Tiny Container Houses | Tiny Cabins | Tiny Prefab Houses
---