Classic A-Frame Tiny House with Lake View
Interest in minimalist lives is increasing day by day and tiny houses are becoming a trend in the world. That's why we continue to discover new tiny houses for you. Today we will introduce you to 'Classic A-Frame Tiny House with Lake View', suitable for the minimalist life of your dreams.
Recently, due to the increase in diseases and people's boredom from city life, they are in search of a different lifestyle. They are looking for different alternatives to get away from the crowd, relax and be alone with nature. For this reason, they prefer a tiny house that can be moved to any location or fixed.
Living in a tiny house has its advantages and some difficulties. For this reason, you should choose the tiny house that suits your lifestyle. You can find the most suitable tiny house for yourself by examining our other articles on our website.
Classic A-Frame Tiny House
This classic looking A-Frame tiny house is located in Lake Arrowhead, California, United States. Located on the northern shore of the lake, the house offers its guests a peaceful life in nature.
The house, which can be rented through Airbnb, offers a magnificent mountain getaway on the top of the mountains, under the stars. The house, which has a magnificent view of the lake from every room, allows you to be alone with nature among the trees.
You can listen to the chirping of birds while enjoying the fresh mountain air on the large deck area around the house. You can dine at the dining table in the deck area or have a barbecue.
It is very stylishly designed to bring the mountain cabin air to the interior of the house. The house, which has 4 bedrooms, 6 beds and 2 bathrooms, can accommodate 10 guests.
On the 1st floor, there is 1 master bedroom, shower, Kitchen, living area, fireplace, private bedroom and a bed under the stairs. On the 2nd floor there is a private bedroom, a bathroom with a bath and a shower. On the 3rd floor, there is an open bedroom and 2 beds.
LEARN MORE
Classic A-Frame Tiny House with Lake View
Dream Tiny Living discovers and shares tiny houses suitable for the minimalist life of your dreams.
We invite you to share your stories and tiny house photos with us so that together we can inspire the minimalist lives of others' dreams and strengthen our passion even more.
Lets ! Now share our story using the link and social media buttons below.
» Follow Dream Tiny Living on Social Media for regular tiny house updates here «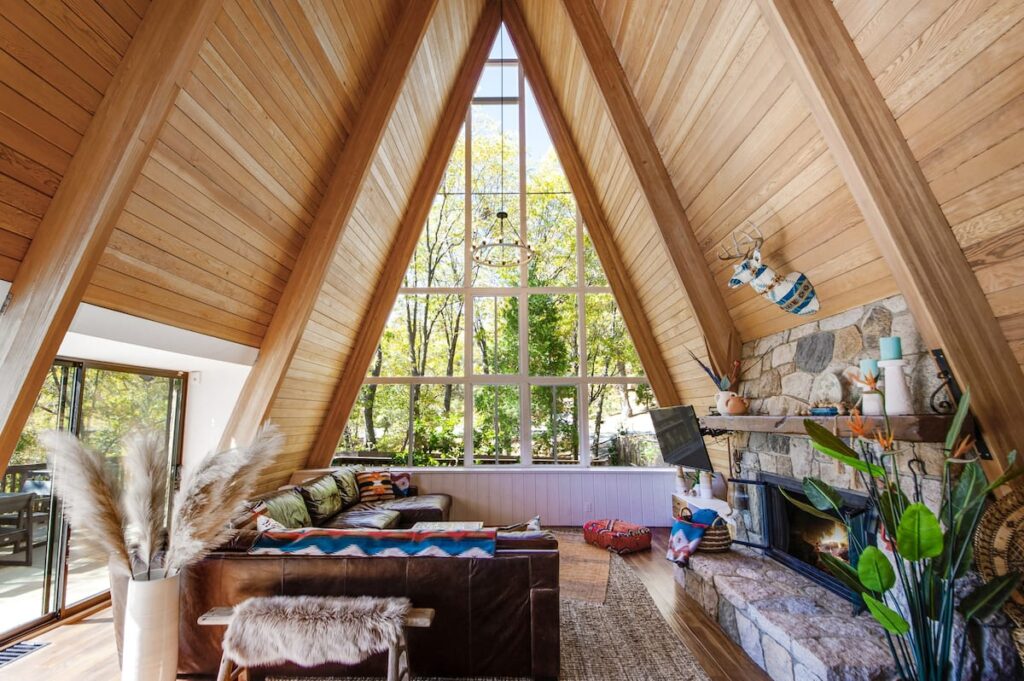 CHECK OUT OUR OTHER TINY HOUSE STORIES
More Like This : Tiny Houses | Tiny House on Whells | Tiny Container Houses | Tiny Cabins | Tiny Prefab Houses
---