Orkide Tiny House
Today, we will introduce you to Orkide Tiny House, suitable for the minimalist life of your dreams.
Although tiny life is nothing new, the designs continue to be updated and upgraded over time. Today we examine a stylish and modern structure known as the orchid.
This beautiful tiny house was designed by New Frontier Design, located in Nashville, Tennesse. It has designed a compact house suitable for all purposes with its smart living solutions. This house, which is the ideal size for a family of three, was built to be independent of the system. This house, which is 28.7 m2, is 9.7 m long.
Orkide Tiny House uses raised cedar veneer on its exterior, while the triangular-shaped roof offers a modern touch. Opening from the inside to the outside with a wide garage door style.
Inspired by solar eclipse, LED lighting has added a different modernity to the house. The house has an air conditioning unit. At the same time, the sun's rays are used in the best way with skylights. Electricity needs are met with the panels on the roof of the house.
We meet with a very modern environment in the interior of the house. There is a living room at the entrance. The sofa here can be opened and turned into a bed. It is possible to go out from both sides from the entrance section.
The steps lead to the kitchen section. In this section, there is a dining table, stove, cupboard, refrigerator and sink.
There is a toilet and a bathroom at the far end of the house.
There is a bedroom above the toilet and bathroom. You can climb to this section by ladder.
Thank you for reading this article. To learn more about our other articles here.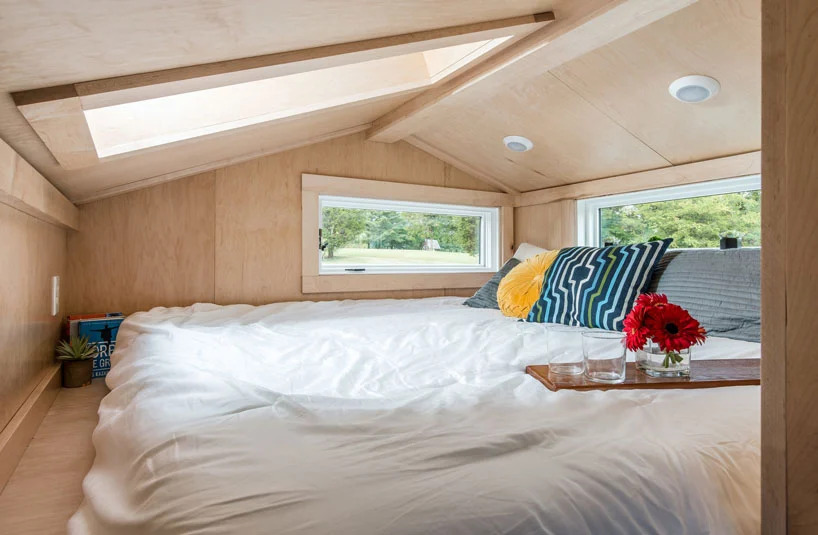 ---